My Life with Joe Papp at
The Public Theater
The ultimate insider's account of The Public Theater, its creation, and first decades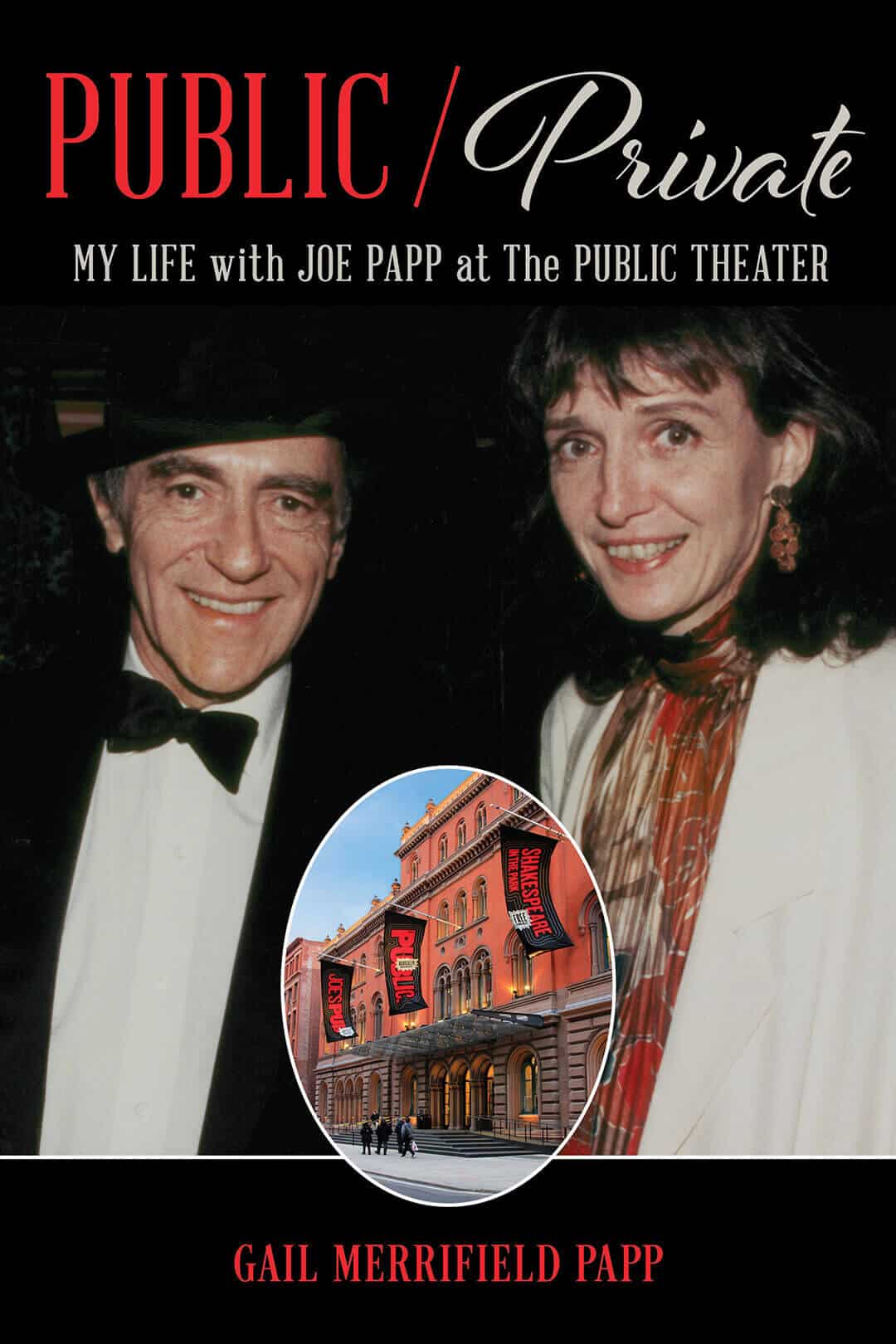 MY LIFE with JOE PAPP at
The PUBLIC THEATER
Publisher: Applause Theater and Cinema Books (October 17, 2023)
In Public/Private: My Life with Joe Papp at The Public Theater, Gail Papp takes us inside a remarkable working partnership as she tells story after story about the creative process that launched many of The Public Theater's best remembered productions, including Hair, A Chorus Line, Sticks and Bones, for colored girls who have considered suicide/when the rainbow is enuf, The Normal Heart, The Mystery of Edwin Drood, and many others.
With photos throughout, this compelling memoir chronicles Gail's life working alongside Joe Papp, founder of Shakespeare in the Park and the Public Theater. Their 26-year love story began when they discovered an unexpected connection of mind and heart during The Public's early days and extended until Joe's death in 1991. Partners in work and life, they married in 1976.

Drawing on her own contemporaneous notes, including as Director of New Works Development at The Public Theater, Gail describes the innovative ways the Public operated, driven by Joe's ambition to create a year-round producing home focused on original plays and musicals from new voices, and challenging stereotypes by employing non-traditional casting.

Gail shares stories about the extraordinary body of work that launched the careers of dozens of directors, composers, choreographers, and playwrights including Michael Bennett, David Henry Hwang, Larry Kramer, David Rabe, Ntozake Shange, Elizabeth Swados, and actors like Ruby Dee, Gloria Foster, Morgan Freeman, James Earl Jones, Raul Julia, Kevin Kline, George C. Scott, Martin Sheen, and Meryl Streep.
Those and many more notables fill the pages of Public/Private.
Gail's intimate remembrances lend the narrative a unique emotional edge, bringing a human side to the legendary figure whose theater continues to thrive today.
Discover in Public/Private: My Life with Joe Papp at The Public Theater that one of The Public Theater's most captivating stories is its own, told as no one else could by Gail Merrifield Papp.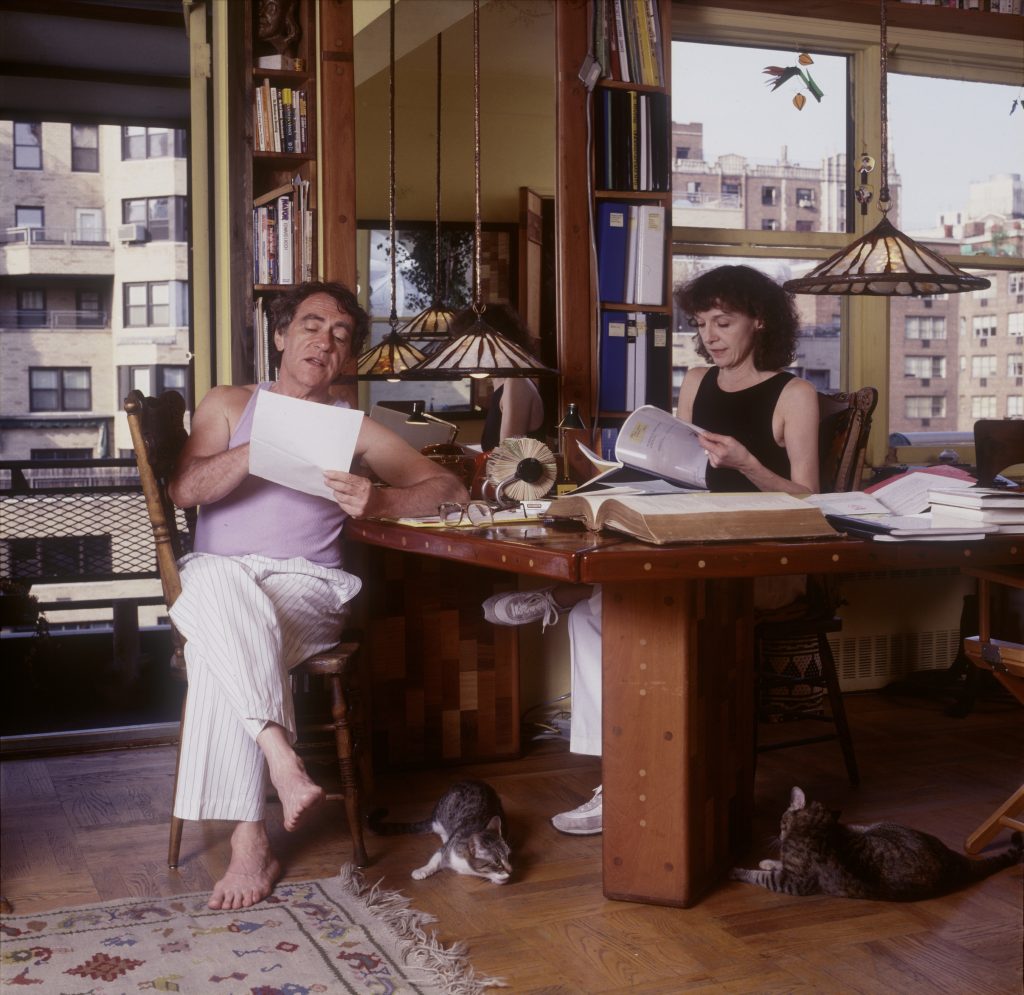 Joe and Gail working at home.
Photo: © Estate of Barbra Walz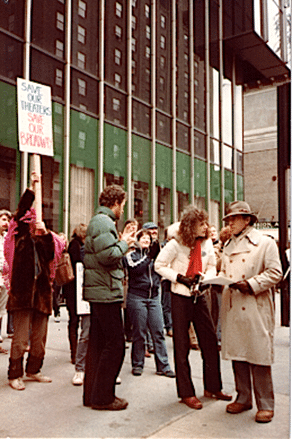 Staff assistant Emmet Foster, Gail, and Joe demonstrating against the destruction of the irreplaceable Morosco Theater in 1982.
Photo: Papp Estate
Gail moving into her office at the Public Theater, 1966.
Photo: Gail Papp
"Gail Papp has lived a most unusual creative life, at the center of one of the most beloved and innovative theatrical homes in the world, at the side and in the heart of Joe Papp, who had the vision to create that home and with Gail at his side brought The Public Theater to vibrant and unique life. It wouldn't have been the same without her and that is a truth she would quibble with, but as you will see in reading Public/Private, is absolutely true. . . ."​—Kathryn Grody, actor and playwright of A Mom's Life​
Gail and Joe walking home from The Public Theater, 1973.
Photo: Papp Estate
Playwright Ntozake Shange (center) with, to her left, her parents, Eloise and Dr. Paul T. Williams; to her right, her husband, jazz musician David Murray, Joe and Gail, 1977 at the opening of for color girls who have considered suicide when the rainbow is enuf at the National Theater in Washington, D. C. Photo: Billy Rose Theatre Division, The New York Public Library for the Performing Arts
A 14-page list of more than 3,900 actors, choreographers, composers, directors, and playwrights/lyricists/translators at the New York Shakespeare Festival and Public Theater, 1956 to 1991.