About Gail Merrifield Papp
GAIL MERRIFIELD PAPP was born in San Francisco into a family with a deep theater lineage. Inspired by parents who were editors and writers, Gail originally began a career in publishing, but then decided to reinvent herself by looking for a job in the theater.
Gail en route to the Grand Canyon from New York City on her 1½
horsepower Harley Davidson, 1955 Photo: Gail Papp
Great-great-grandmother Martha Mills, 1850s. She played Lady Macbeth.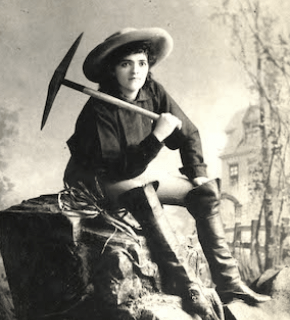 Great-grandmother Rita Booth as Billy Piper in The Danites, 1882
Grandmother Izola Henderson as the Middy in HMS Pinafore, 1890
Gail's sole inspiration for this course correction was the fact that in the 19th  and early 20th centuries five generations of women in her family had been actors – Aunt, Great-aunt, Grandmother, Great-grandmother, and Great-great-grandmother. She wasn't an actor herself, but Gail felt that identifying in some way with their theatrical profession could restore her spirits after a traumatic year during which she'd been divorced by the young man she married in college.
With a bit of good luck, Gail managed to land a position with the new Repertory Theater of Lincoln Center that was due to open in 1965. Her very first job was reading and evaluating new plays for the experimental Forum Theater. It led to Director Harold Clurman enlisting Gail's services on his production of Incident at Vichy.
After a year, when the entire staff at the Lincoln Center Theater was let go, it was on to the New York Shakespeare Festival in April, 1965, hired by Hilmar Sallee to write the biographies of dancers in the Rebekah Harkness Dance Festival. "They change their program every night," he said, "so you'll have to deliver your copy to the printer every day."
Later that first week, Gail met the Founder-Producer of the New York Shakespeare Festival: Joseph Papp.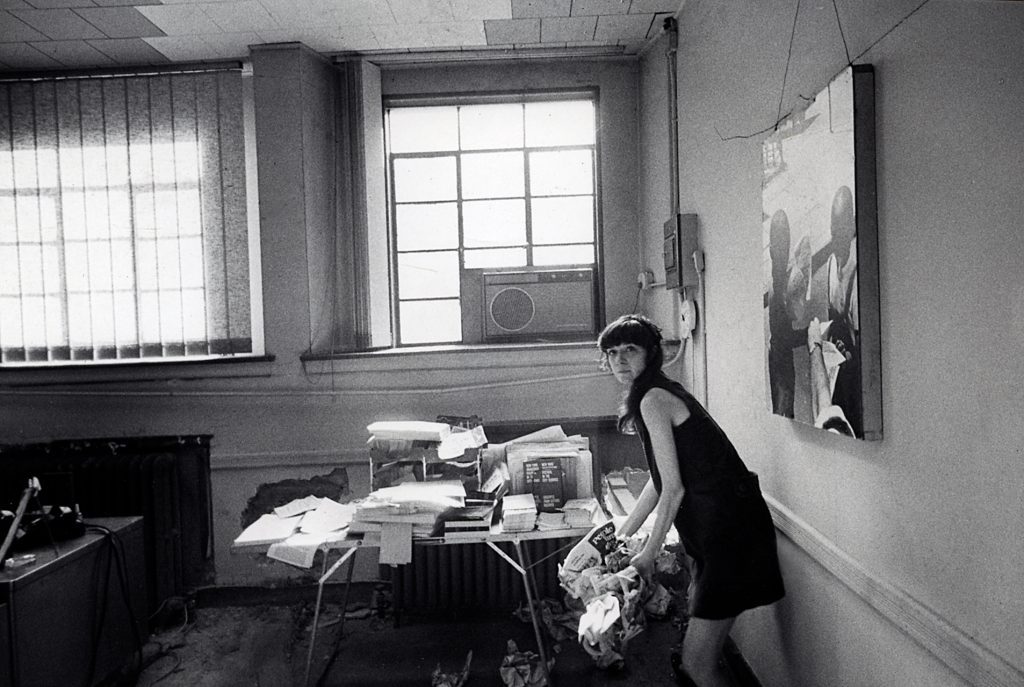 Gail moving into her office at the Public Theater, 1966. Photo: Gail Papp
Exterior of the Public Theater. Photo: Afton Merrifield Rodriguez
At the Shakespeare Festival and then at The Public Theater over the next years Gail's role grew – finding writers for the new theater, working with Joe to launch The Public Theater, helping playwrights develop their ideas, watching Joe work so successfully with creative people at this ambitious start-up enterprise, knowing she had arrived at the right place: a theater led by a charismatic Founder-Producer inspired by social and artistic goals. As Assistant to the Producer in a one-person office, Gail's work included every aspect of Producer Joseph Papp's activities at the brand new Public Theater when they opened their first production, Hair: The American Tribal Love-Rock Musical, a show which would go on to change musical history, but did meet a bit of blowback at first.
Gail was made Director of New Plays and Musicals Development for the Public Theater, and was responsible for some of its best-remembered productions. These include The Normal Heart, Larry Kramer's Tony-Award play about the AIDS crisis in 1985, for which she received the Human Rights Campaign Arts and Communication Award, and Rupert Holmes' Tony-Award-winning Best Musical The Mystery of Edwin Drood.
In 2017, the remarkable history of musicals at The Public was celebrated with a special "From Hair to Hamilton" gala with excerpts not only from those two shows, but also from A Chorus Line, Runaways, Two Gentlemen of Verona, The Pirates of Penzance, The Mystery of Edwin Drood, Caroline or Change, Fun Home, and Here Lies Love.
Partners in both work and life, Gail Merrifield and Joseph Papp were married in 1976.
Gail was Editorial Advisor to Kenneth Turan and Joseph Papp on their oral history Free for All: Joe Papp, the Public, and the Greatest Theater Story Ever Told.
Since Joe's death in 1991, Gail has been active with the Time Lapse Dance Company as a Board member; Mabou Mines on their Honorary Advisory Committee; Radcliffe Institute for Women; Tzivos Hashem; New York University School of the Arts; Alwin Nikolais-Murray Louis Dance Company as a Board member; James O. Hall Research Center of The Surratt Society, and The Joseph Papp Yiddish Theater, as a Board member.
Gail's interests have taken her on an archaeological dig in a Neanderthal cave sponsored by the University of Murcia, Spain, and to a seminar on the Dead Sea Scrolls at Oxford University, England, sponsored by the Biblical Archaeology Society.
Gail is a trustee of the Public Theater.
Gail has also been the Research Collaborator on Helen Epstein's biography Joe Papp: An American Life; a Research Consultant for the PBS documentary, Joe Papp in Five Acts by filmmakers Tracie Holder and Karen Thorsen; and is the editor of the forthcoming Pocket Papp: Thoughts about the Theater by Joseph Papp.
Gail is now writing the Joe Papp story never told, from the unique perspective of working shoulder to shoulder with him to launch the success of some of America's most important plays, playwrights, and talent.
Joe and Gail cutting the cake at their home wedding in 1976 Photo: UPI International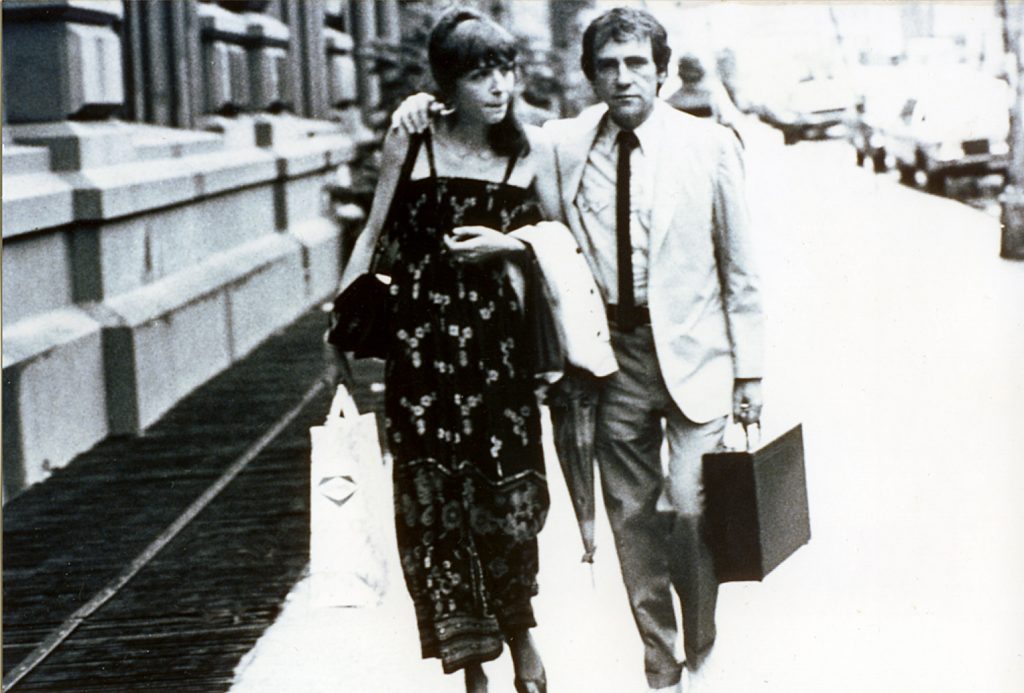 Gail and Joe walking home from the Public Theater, 1973.
Photo: Papp Estate
Gail is working now on the first memoir ever written about Joe Papp. It's currently titled Public/Private: My Life with Joseph Papp and the Public Theater, and will pull back the curtain on this most dynamic period of American theater, taking the reader behind the scenes of her 26-year working and married relationship with Joseph Papp.
Her story includes an insider's perspective on the astonishing creation of The Public Theater, the initial phase of its struggles and successes (marked by Hair, A Chorus Line, Sticks and Bones and The Normal Heart), and on working to help artists and plays succeed in finding new audiences.
Along the way, fans of theater and members of that community are offered a front row seat to observe in vivid detail the process and the players, perhaps understanding for the first time Papp's approach to working successfully with highly creative people. Gail's memoir gives its readers the opportunity to look at the early years of some of today's most celebrated names and to appreciate the value and impact of Founder Joseph Papp's passionately democratic mission in the growth of his theater. Their front row seat also offers the chance to witness scenes that illustrate the delicate/difficult/invisible/invaluable role editors play in the process of bringing a dramatic work to the stage.
Gail calls Joe a "pragmatic radical touched with public genius." As she introduces a new generation to Joseph Papp, it will become quickly clear why his philosophy of inclusion and approach to creative development have special relevance for us in the troubled 21st century. Her book will be the story of the work and the love they shared.
Gail Merrifield Papp is a resident of Greenwich Village.